MUGA Construction East Dorset
Multi-Use Game Area court installation is another service that the team at Tennis Court Construction Dorset have much experience with. Having undertaken many of these installations over the years we know how to install them to the exact standard required. There are many things that need to be considered with a MUGA court, all of which we can take care of.
A MUGA court can be used for many different gaming activities, including tennis, football, basketball, and netball, and whether you are looking for a complete new installation or even just a resurface, then we will be able to help.
Don't hesitate to get in touch with us to discuss your MUGA requirements and to arrange a site survey.
MUGA Court Installation
MUGA court construction is a complex and time-intensive process. A typical MUGA court consists of several layers, including an upper layer consisting of either rubber or asphalt and a concrete base layer beneath that. Before a MUGA court can be built, the subgrade must be prepared to ensure proper drainage, which will prevent water from pooling on top of the playing surface. The concrete base layer needs to have a level surface, and all voids in the subgrade need to be filled before installing the first layer.
Once the first layer is complete, it's time to install the sports floor system itself. This typically involves some form of hard surfacing material such as concrete or synthetic turf. The type of system chosen will be based on the desired sport to be played on the court and budget considerations.
After the flooring system is in place, the next step is to install the netting and fencing around the court's perimeter. This is necessary to keep balls and players contained within the playing area and protect spectators from wayward shots. The final step in MUGA court construction is painting the lines for the specific sport that will be played. This is typically done with a special paint that can withstand heavy wear and tear, such as that which will occur during games and practice sessions.
MUGA court construction is complex, but the result is worth it. These courts provide a safe and enjoyable playing surface for various sports and can be enjoyed by people of all ages and skill levels.
If you're thinking about having a MUGA court installed at your school, park, or another facility, be sure to contact us, and we'll be able to walk you through the entire process and help you choose the best options for your needs.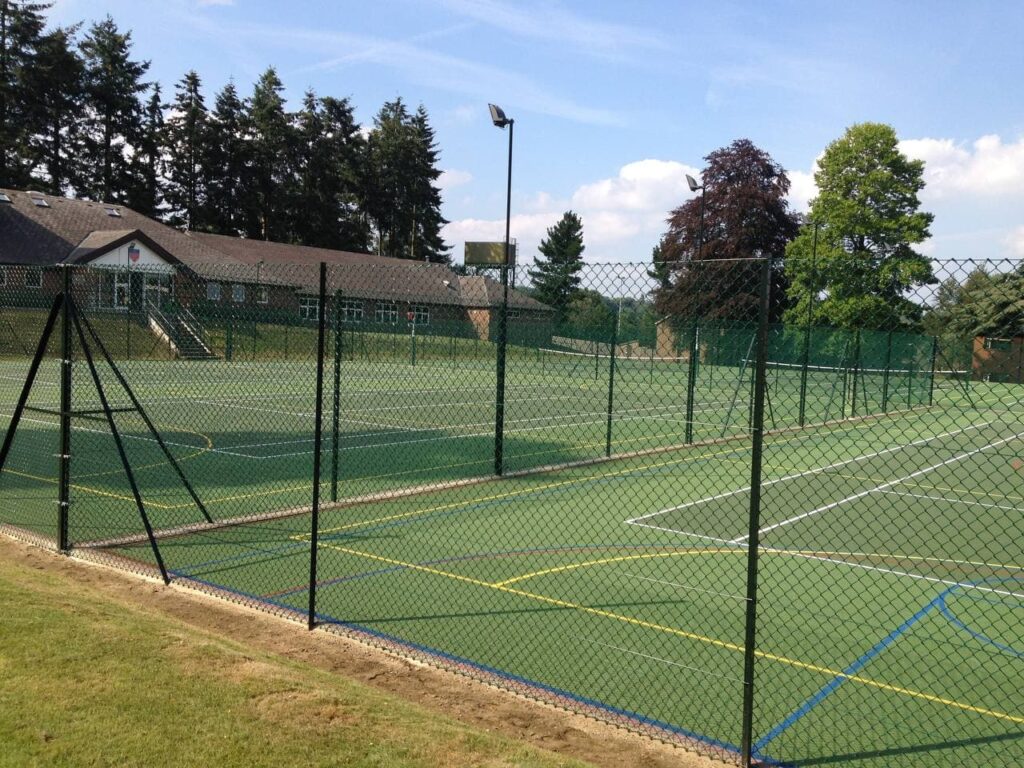 A fantastic service. My court has far exceeded my expectations, and I just wish I had it installed years ago! The quality of workmanship is second to none, and it is rare to find such skilled tradesmen.
Thanks so much, for the wonderful new court which I will enjoy for years to come.
My existing court had been showing signs of distress and I made the decision to enquire about having it resurfaced. I arranged a site visit and the moment I met Tony I instantly knew his wealth of experience was exactly what I needed. Amazing results. My family and I are so happy with the court and we really have been enjoying it. Thanks so much!
MUGA Construction near me
At Tennis Court Construction Dorset we cover all of East Dorset and the surrounding areas. If you found us by searching for 'MUGA Court Construction Near Me' or something similar then the chances are we cover your area.
Whatever your needs are we look forward to hearing from you soon.