Tennis Court Construction
Sopley
Tennis Court Installation

Sopley
Hello and welcome to our website, as a company offering design and installation of new tennis courts and resurfacing projects, we understand what is required to get your project taken care of swiftly. A tennis court is a fantastic option for any family and offers many benefits for your health and also adding potential value to your home. At Tennis Court Construction Dorset, our team have a combined experience of decades and when it comes to building and resurfacing tennis courts, there is not much we dont know!
At Tennis Court Construction Dorset, our goal is to try ad keep the whole process straightforward from start to finish. Upon contacting us, we will take some details of what is required and then arrange a site visit at a convenient time to fully assess the scope of work. This will allow us to run through all the available options and ensure that your new tennis court or resurfacing requirements perfectly meet all of your needs. Once the survey is completed, we will provide a written quotation outlining your project, and if you wish to proceed, your installation will be booked in. At every stage from initial contact to post job completion we are here to help and we will always be happy to answer any questions or concerns that you may have.
A new tennis court can be a big decision, but with the fantastic health benefits and the potential to add value to your property, it is sure to be something that will give you, your family and friends years of satisfaction.
Tennis Court Builders

Sopley
Tennis court construction company serving clients in and around Sopley
Tennis Court Contractors Near Me
There has never been a better time to have a tennis court constructed. With more people now working at home, or avoiding public places, now is the time to have your new court installed to then be able to enjoy it with friends and family for years to come.
All court installations that we undertake are designed and built to the highest possible standard, and we will always ensure they meet all current regulations.
When having a new court installed there are things that will need to be considered include access, potentially forming pathways, and making sure that there is suitable drainage. We will also assess if there are any other requirements such as retaining walls for banks, external lighting, fencing, and so on.
Planning out these factors at the beginning will ensure that your new court fully meets your needs and demands. Please feel free to contact us anytime so that we can arrange to carry out a site survey at a convenient time.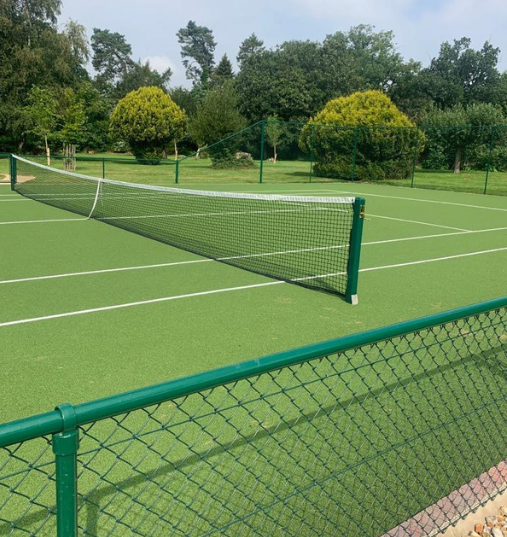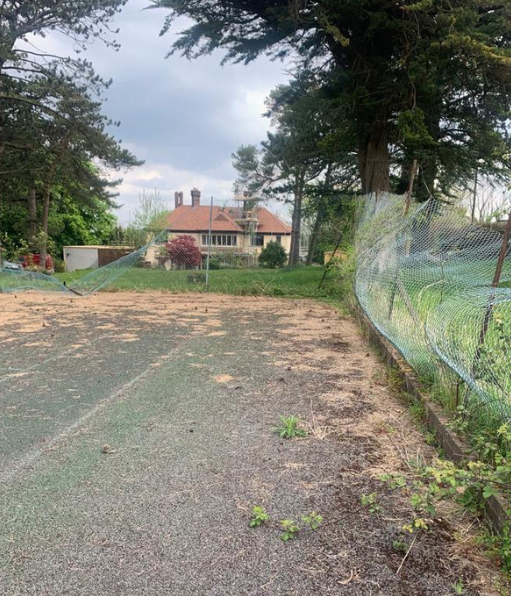 If your court is looking a little tired, or the surface has started to affect your game, then a court resurface could be the answer. Over the years our operatives have resurfaced countless courts, and some of them were even installed by them 20+ years ago!
When you initially contact us we will arranges a site visit, which will allow us to thoroughly assess the condition of your current court and check to ensure there are no underlying issues that need attention. We can then discuss any other requirements that you may have, such as upgrading fencing or surrounding lights, etc.
The costs associated with resurfacing a tennis court are reasonable, and the whole process can typically be completed relatively quickly.
We only use high-quality materials at Tennis Court Construction Dorset during court refurbishments, so you can rest assured that your tennis court will look and feel like new once again.
Our team is committed to providing top-quality service at affordable prices, so don't hesitate to contact us today for more information about our tennis court resurfacing services in Sopley and the surrounding areas.
Multi-Use Game Area court installation is another service that the team at Tennis Court Construction Dorset have much experience with. Having undertaken many of these installations over the years we know how to install them to the exact standard required. There are many things that need to be considered with a MUGA court, all of which we can take care of.
A MUGA court can be used for many different gaming activities, including tennis, football, basketball, and netball, and whether you are looking for a complete new installation or even just a resurface, then we will be able to help.
Don't hesitate to get in touch with us to discuss your MUGA requirements and to arrange a site survey.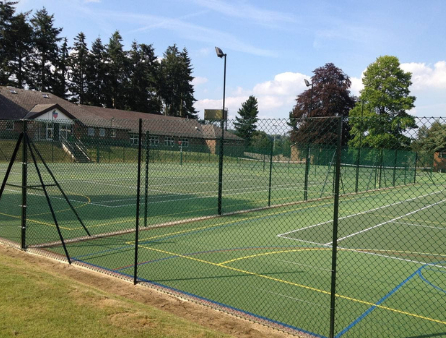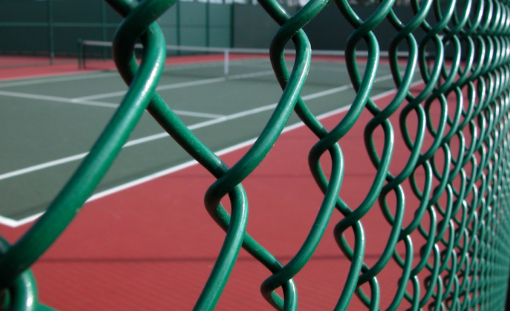 We are able to offer all types of repairs and maintenance for your tennis court. If there is something that requires remedial works please do give us a call.
Maybe your fence is looking tired or has become damaged, and you are thinking about replacing it. Doing so, can transform the overall look of your tennis court and is a fantastic way to give it a facelift.
We also install lighting systems which are good solution to give you more flexibility for the time of day which you will be able to enjoy playing. 
If you require any maintenance services at all then please feel free to contact us anytime, and we'll be happy to help.
Decades of experience
With over 80 years combined experience you can rest assured that all operatives have the skills and expertise to ensure that your new court is installed to the highest possible standard.
Satisfaction Guaranteed
Our customers are our priority, and for this reason we always go the extra mile to ensure that your new court installation or refurbishments are delivered on time and within budget.
Free Consultations
We carry our free surveys for the works which you require. Call us today to arrange a site visit, and let us offer our professional advice, and make sure that your dream tennis court is perfectly planned.
Tennis Court Resurface | Tennis Court Installations | MUGA courts… We do it all!
Tennis Court Construction East Dorset
Tennis Court Installation FAQ's
How much does a tennis court refurbishment cost?
The cost associated with a refurbishment will depend on the full scope of works required but as a rough guide price is generally between £12,000 – £22,000
Can I resurface a tennis court myself?
There are many steps involved in a tennis court refurbishment and many precision calculations to consider. Whilst anything is possible, it usually is best to use a specialist contractor like ourselves.
Does a tennis court add value to a home?
Absolutely! A tennis court is a wonderful addition to any home and a fantastic selling point. Some property experts have advised that a tennis court can add £75,000 + to a country house.
Do you need planning for a tennis court?
Generally, no, you don't need planning to install a tennis court in your garden; however, as with any construction related project, there can be things that need consideration within the planning requirements for your property or area, including fencing. We can advise you of any potential planning requirements.
What is the square meterage of a tennis court?
A single court is 23.77 M long and 8.23 M wide. The total play area is 195.65 M Squared.
The service line at 6.4M from the Net.
How long does a tennis court take to construct?
This depends on many factors, and the best way for us to give you a firm time frame for the installation is to conduct a site survey.
A fantastic service. My court has far exceeded my expectations, and I just wish I had it installed years ago! The quality of workmanship is second to none, and it is rare to find such skilled tradesmen.
Thanks so much, for the wonderful new court which I will enjoy for years to come.
My existing court had been showing signs of distress and I made the decision to enquire about having it resurfaced. I arranged a site visit and the moment I met Tony I instantly knew his wealth of experience was exactly what I needed. Amazing results. My family and I are so happy with the court and we really have been enjoying it. Thanks so much!
Tennis Court Installer
Sopley
A tennis court is a fantastic investment that can offer years of pleasure for you and your family. At Tennis Court Construction Dorset, we are dedicated to offering a first class service for all of our clients and making the whole process as simple as possible.
We believe in offering value, complete transparency, and a service you will never forget. 
No job is too big or small for us, and we will always advise you ultimately on what we feel is the right solution for your needs and not necessarily the most expensive. We believe working to these simple principles has allowed our team to gain such a fantastic reputation and clientele base over the years.
We'd love to hear from you if you are looking for a company with its client's best interests at heart. Please don't hesitate to contact us anytime for an informal chat and to arrange a site visit.
Tennis Court Builder Near Me
At Tennis Court Construction Dorset we cover all of Sopley and the surrounding areas, including St Leonards. If you found us by searching for 'Tennis Court Construction Near Me' or something similar then the chances are we cover your area.
Whatever your needs are we look forward to hearing from you soon.